Author and activist Casey Walker talks about her early life in Nevada City, California, where she created and published the literary and environmental journal "Wild Duck Review." We also discuss biotechnology, media content vs. money, moving from anti-tech to useful tech, intellectual evolution, confronting the bullies, and changing the news.
She produced 20 book-length issues of the Review, and grew circulation to 48 US states and 13 countries. In 2000, Sierra Club Books published Issue 19 of "Wild Duck Review" as Made Not Born: The Troubling World of Biotechnology.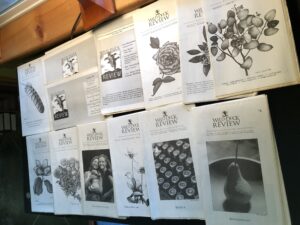 Unexpectedly, "Wild Duck Review" was perhaps one of the last, homemade print journals to go viral before the world migrated to online search/social. Was a hinge moment between those with natural tendencies toward being community-centered, back-to-landers, tech-suspicious, nature-lovers, independent bookstore lovers, social justice activists, etc., versus those who became idealistic about what worldwide internet connection could yield for humanity.
Casey gave interviews on national media, participated in conferences, and began speaking out on what she saw as a crisis in public news and discourse. In 2004, she founded the Institute for Inquiry to pursue high-stakes, bio-cultural issues, beginning with "A Wireless Age?".
By 2009, Walker began a pursuit of a firm intuition: that the accepted idea of public news and discourse is itself paradigmatically "off."
She spent the next decade working out new theory (and architectural principles for online inquiry) via close observation, deep retreat, and writing.
Presentations of that work will soon go public.
Casey Walker: I mean, a lot of my thinking is really at core the question that an editor would ask, which is "what's the most important thing that I can print, and put out into the world?" And once you take that question seriously, it takes you on a path that is truly independent of what we have today, which is this negotiation between advertisers and markets. Demographics. And the polling and matching that goes between those two completely eclipses the question of "what do we need to be thinking about?"
Podcast: Play in new window | Download